If you are searching for "assisted living", "assisted living near me" or "assisted living facilities" in Mesa, Canyon Winds can help! Canyon Winds Retirement Community is the best new assisted living facility in Mesa AZ. Canyon Winds is an Arizona based Retirement Community offering upscale Assisted Living, Independent Living and Memory care services in Mesa, Arizona and Las Sendas Community. Our assisted living facility is located at 7311 E. Oasis Street Mesa, Arizona 85207. Call to schedule a tour (480) 948-0600. Hours of operation: Front Office Monday – Friday 9:00am – 5:00pm, Resident Care – 24 Hours A Day – 7 Days A Week.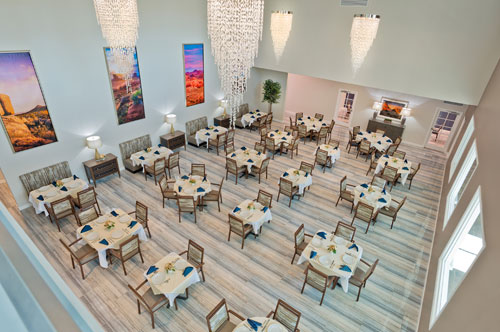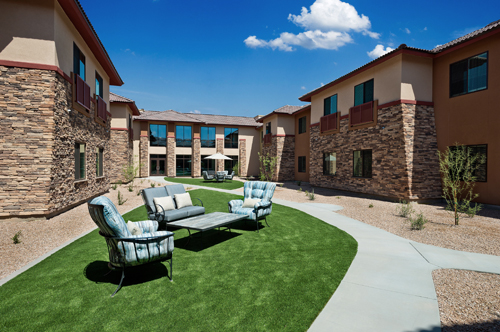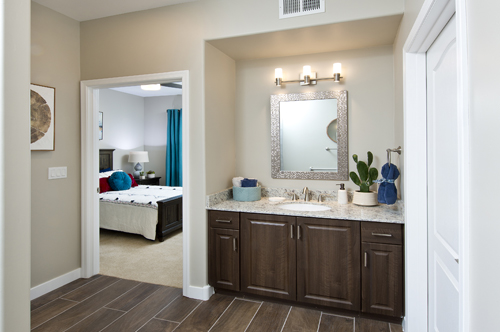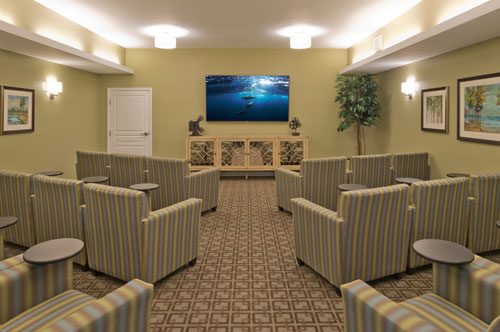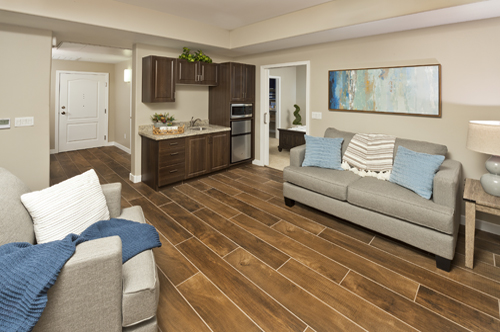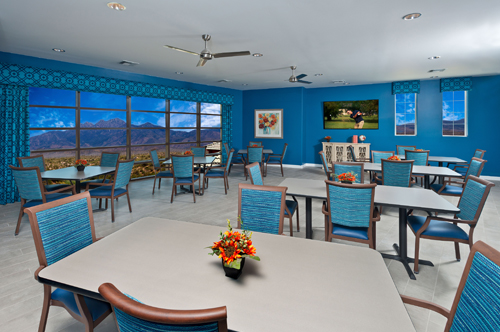 Upscale Assisted Living Facility In Mesa, Arizona
Our newly designed upscale Assisted Living facility in Mesa offers 1st class care for all of our assisted living residents. Canyon winds offers 60 assisted living apartments in all sizes. We have Studio, 1 Bedroom & 2 Bedroom floor plans to choose from.
♥ Individual Care
For residents that need additional assistance with daily activities, our Assisted Living Care Givers provide unmatched assisted living services. We can help with daily living activities, coordination and transportation if needed, all while ensuring safety, health and well-being.
We focus on the individual wellness of our residents and provide a customized plan of assistance, with highly trained Care Givers on staff 24 hours a day.
Assisted Living Activities & Amenities
Not sure how you will spend your free time? Look no further…..we have a full monthly calendar of enriched activities planned for you! To Include:
Weekly trips to doctors appointments, restaurants, shopping, events and more!
Movies you can watch in our state-of-the-art Theater Room!
Daily Fitness & Exercise Classes in our gym!
Bunco, Bingo, Bridge and all of the card games you can imagine!
Live Entertainment is available several times per month throughout our amazing community!
Interest Groups, Crafting Classes, and so much more!!
Assisted Living Apartments & Floor Plans

We have 3 different floor plan options to choose from including studio, 1 bedroom and 2 bedroom assisted living floor plans.
Is Assisted Living Right For Me?
If you can answer "yes", then moving into an assisted living facility is for you.
Are your needs or your loved ones needs beyond your own physical capabilities?
Are your health needs or your loved ones health needs becoming too much to handle at home?
Is transportation and getting around getting harder for me?
Do you need on-going medication reminders?
Are you or your loved one in the early stages of Alzheimer's or dementia?
Assisted living is for seniors who are mobile, required medical attention regularly and need help with daily living tasks such as dressing and bathing.
Download Our Assisted Living Checklist
Click here to check out our Assisted Living Checklist to find out what types questions you should ask community owners while touring facilities. Having a good checklist will ensure that you don't forget to ask any important questions. Download the Assisted Living Checklist PDF so you can take it with while your touring facilities.

Tour Our New Assisted Living Facility In Mesa
The beautifully designed Canyon Winds Assisted Living community is Now Open. Residents enjoy upscale living with first-class care in this stunning two-story, 60 unit community featuring Studio, One and Two Bedroom floorplans. Come experience specialized care that focuses on the unique needs of each resident while indulging in delicious meals in our restaurant style dining room and engaging events from an enriched activities program.
Assisted Living FAQ
Read our most frequently asked question about assisted living.
What Is Assisted Living?
Assisted living is a long-term care option for seniors who live independently but need assistance with  (ADL) Activities of Daily Living. Activities of daily living include things like taking medication, bathing, transportation to and from doctors appointments, dressing and person care.
Assisted living residents are commonly in the early stages of Alzheimer's or Dementia. Once memory symptoms start to get worse, the resident can opt to be moved to memory care.
Assisted living facilities commonly provide programs and activities such as movie nights, arts and crafts, holiday gathers and more. In addition, most assisted living communities usually offer great amenities such as golf courses, fitness centers, tennis courts and more. Read more about "What Is Assisted Living?"
What is Assisted Living vs Nursing Homes?
Assisted living facilities and nursing homes are very similar in that they both focus on the safety, health and happiness of senior individuals who need support with (ADL) activities of daily living.
Similarities Between Assisted Living and Nursing Homes
Manage Medication – Both assisted living facilities and nursing homes help with medication management.
Enriching Activities – Both nursing care centers and assisted living communities offer life enrichment activities to satisfy residents' spiritual, emotional and physical needs.
Support Services – Both communities offer supportive services to help with daily tasks like transportation, laundry and housekeeping.
Safe Environment – Both types of communities offer a secure environment for seniors including grab bars, emergency call systems and more.
Good Nutrition – Well-balanced meals are a focus of both communities. Residents are typically provided with 3 balanced meals per day and snacks.
Difference Between Assisted Living and Nursing Homes
Medical Care – The main difference between assisted living and nursing homes is that assisted living provides help with daily living activities or custodial care vs nursing homes which provide 24 hour care for individuals with serious medical needs.
Housing Appearance – Nursing homes generally look like an institution vs an assisted living facility which look like an upscale apartment.
Shared Rooms – Assisted living residents usually have their own suite or apartment vs nursing homes where shared rooms are very common.
Living Costs – Assisted living facilities cost less than nursing homes if you don't qualify for Medicare or Medicaid and choose the private pay option.
How Much Does Assisted Living Cost in Mesa?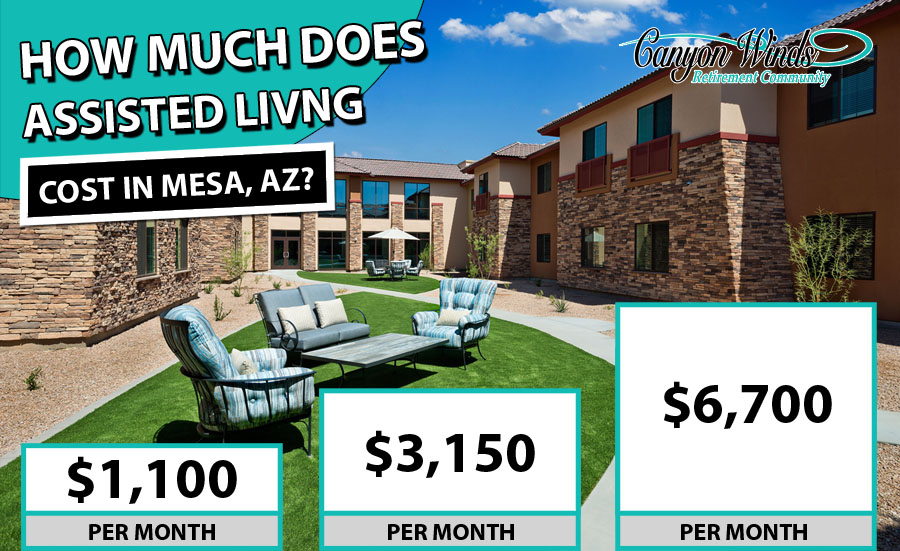 On average, assisted living in Mesa costs about $3,150 with average prices ranging from $1,100 to $6,700 in Mesa, Arizona for 2020 according to SeniorAdvice.
According to Caring.com, "With an average cost of $2,745 in Mesa, it's often difficult to find assisted living communities that provide high-quality care at an affordable price."
RetirementLiving says, "The average cost of a private one-bedroom in an assisted living community in Mesa, AZ is $3,500 a month, which is the same as the average rate across the state of Arizona as a whole and is slightly below the national average of $3,700."
Learn more about assisted living cost in Mesa.
Assisted Living vs Nursing Home Cost in Mesa, AZ
Assisted living facilities cost around $2,500 to $6,700 per month vs nurshing homes which cost around $6,800 to $7,700 per month. Medicare and Medicaid typically do no cover the cost of an assisted living facility. However, Medicare and Medicaid will cover the cost a nursing if the patient meets the requirements.
Cost of Living in Mesa AZ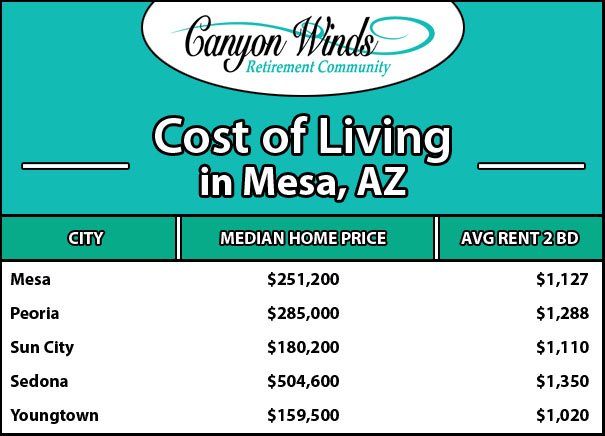 The cost of living in Mesa is 104.2 based on the US average of 100 with the median housing price around $251,200 according to BestPlaces. An amount above 100 means Mesa is more expensive than the US average. A studio costs about $781 per month. A 1 bedroom costs about $911 per month. A 2 bedroom costs about $1,127 per month. A 3 bedroom costs about $1,629 per month. A 4 bedroom costs about $1,895 per month.
| | | |
| --- | --- | --- |
| City | Median Home Price | AVG Monthly Rent 2 BD |
| Mesa | $251,200 | $1,127 |
| Peoria | $285,000 | $1,288 |
| Sun City | $180,200 | $1,110 |
| Sedona | $504,600 | $1,350 |
| Youngtown | $159,500 | $1,020 |
When Is Assisted Living Needed? What Are The Qualifications?
The caregivers stress level is increasing
If the individuals care is beyond your abilities or the health of the individual or caregiver is at risk
If the individuals current home is unsafe
If the individual is starting to wander (increased risk of injury and falls)
How To Move A Parent With Dementia To Assisted Living?
If can be tough to know what to do once you know that your parent needs to transition to an assisted living facility. There is no definitive guide for moving a parent with dementia to assisted living but there are some things you can do to make the transition easier for yourself and your parent. Some things you can do to make moving your parent with dementia to assisted living easier include:
1. Request Information With an Alzheimer's Association
An Alzheimer's Association is your are can provide information about dementia and other resources. They may even be able to help point you in the right direction for social and emotion support as you move through the process.
2. Don't Wait To Start Looking For Facilities
Start researching assisted living facilities in your local area as soon as you can. That way you don't have to be pressured into a decision later on down the road. Keep in mind that your parent may have to transition into memory care if their dementia symptoms get worse or they are no longer able to live independently. If you are worried about this, make sure and choose a facility that also offers memory care to make the transition easier in the future.
3. Hire A Professional To Help
There are professionals (geriatric care experts) who offer services to help you research assisted living options. This will help make difficult conversations easier.
4. Learn More About Dementia
Learning more about the disease will help you understand how it affects your parent. This will help ease stress throughout the transition and help you learn how to handle tough situations better.
Independent Living: 480-660-0259 | Assisted Living: 480-405-1129
Assisted Living Mesa, AZ Reviews
Canyon Winds Assisted Living
Average rating:
13 reviews
Jun 28, 2019
What a wonderful place, very clean offers all amenities, the food is outstanding and the people are very friendly, a must see!
Mar 28, 2019
This facility provided wonderful, caring environment, staffed by caring and well-trained caregivers. I would heartily recommend this facility to anyone needing independent, assisted or memory care for their loved ones.
Jan 28, 2019
Assisted Living Facility Review
Canyon Winds Assisted Living is an excellent facility and I am absolutely certain they provide the best care possible... Read Full Review
Thank you for your glowing review! We can't tell you how much it means to our staff to be appreciated by those who visit our community. We love our residents and are honored to be in their home to assist them with maintaining their safety and independence.

Happy New Year!
Page 1 of 5:
«
‹
1
2
3
4
5
›
»