How Much Does Assisted Living Cost in Arizona?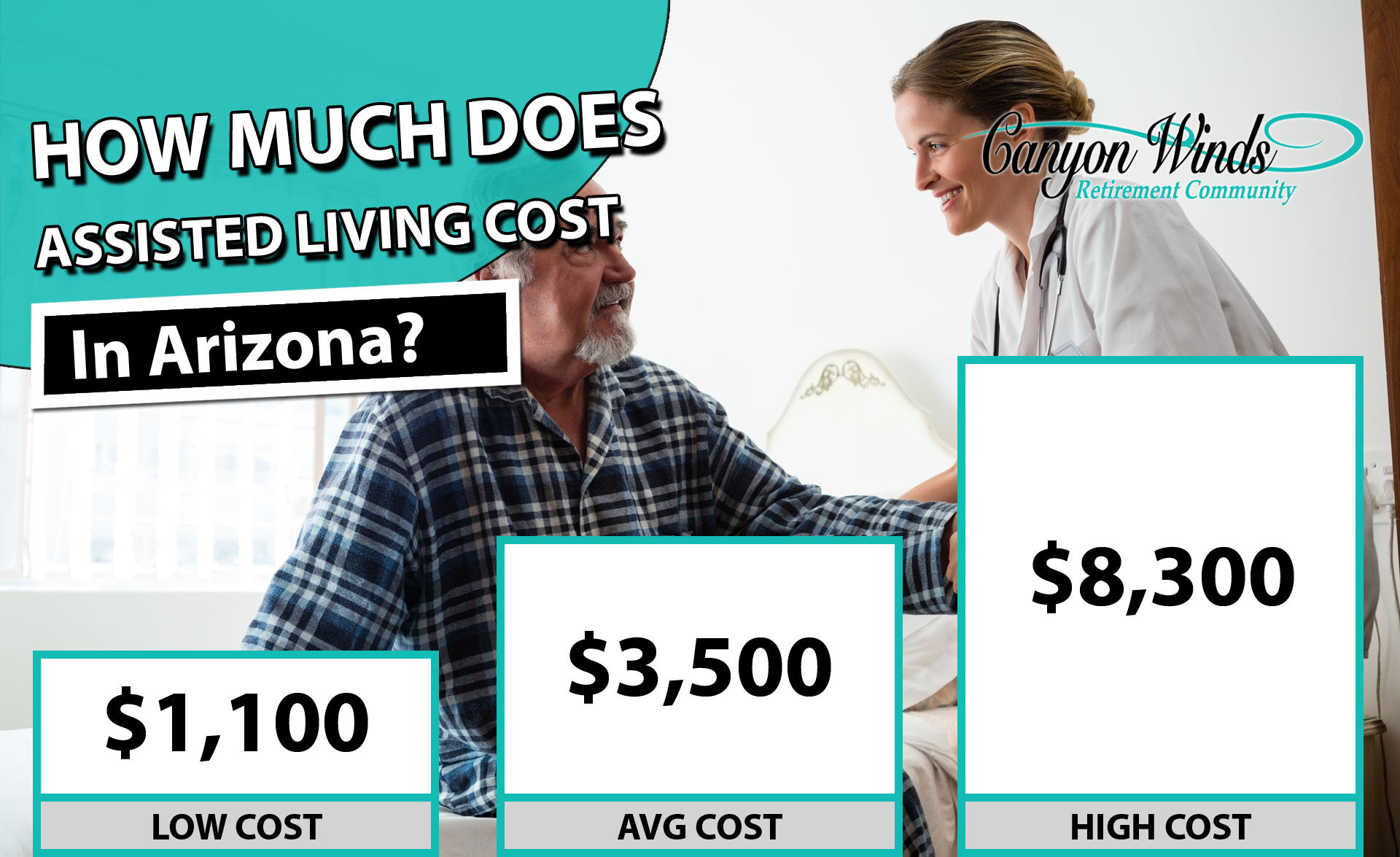 The average cost of assisted living in Arizona is $3,500 per month, $117 per day and $42,000 per year. Average assisted living prices ranged from $1,100 to $8,300 for Arizona in 2019 according to SLS Communities.
Assisted Living Cost Per Day: $133
Assisted Living Cost Per Month: $3,500
Assisted Living Cost Per Year: $42,000
Low Cost: $1,100 per month
Average Cost: $3,500 per month
High Cost: $8,300 per month
How Much Does Assisted Living Cost in Phoenix, AZ?
As reported by Caring.com, the average cost of assisted living in Phoenix, AZ is $2,880 per month or $34,560 per year. Costs can vary as each facility will have different amenities, floorplans, and services. Learn more about Phoenix Assisted Living costs.
How Much Does Assisted Living Cost in Mesa, AZ?
According to AssistedLiving.com, on average, assisted living in Mesa, AZ comes to a cost of about $2,750 per month; with lower costs at around $500 and higher costs at around $5,000. Learn more about Mesa Assisted Living costs.
What is Assisted Living in Arizona?
Assisted living is a kind of housing developed for people that need different levels of personal and medical care. Living areas may be individual rooms, apartments, or shared accommodations. The communities generally offer home like settings and that are physically intended to encourage the resident's independence. Services are provided to assist residents with day to day living.
According to NCAL, "​Assisted living is part of a continuum of long term care services that provides a combination of housing, personal care services, and health care designed to respond to individuals who need assistance with normal daily activities in a way that promotes maximum independence."
Does Medicare or Medicaid Pay for Senior Living in Arizona?
When you decide on which assisted living facility you would like to live in or is a good fit for your senior cost is probably one of the considerations you will need to research. The cost for assisted living services differ by location, amenities, conveniences, floorplans, and services offered. When you choose the type of care you will want to know how the costs will be covered is important in addition to if Medicare or Medicaid will assist in covering some of the expense.
Does Medicare Pay for Assisted Living in Arizona?
No, Medicare does not typically pay for assisted living in Arizona, but Medicare Advantage may cover personal care assistance costs and other supportive services according to PayingForSeniorCare. It's important to clear up a frequent misconception concerning Medicare's coverage of assisted living expenses. Medicare doesn't pay for assisted living, as well as the cost for room & board and individual care. Nevertheless, medical costs ran up at an assisted living community might be covered by Medicare just like it would if medical procedures happen at a doctor's office, at a hospital, or at an individual's home.
Medicare Advantage (MA), in contrast, might cover the expense of personal care aid, including other supporting services at assisted living facilities. Since 2019, MA plans might offer "daily maintenance" benefits for individuals who live in an in-home type setting, presumed services are medically suitable for the person in question and are recommended by a licensed provider.
Does Medicaid Cover Assisted Living in Arizona?
Yes, Medicaid will cover some assisted living related services in Arizona according to PayingForSeniorCare. Arizona Long Term Care Services (ALTCS) is the Medicaid branch that services seniors and disabled prospects. Using this program, long-term care could be offered at home, in an adult foster care setting, or at a nursing home. The program also pays for associated care services for individuals in assisted living. Benefits and services through ALTCS can comprise of home nursing, food delivery services, sturdy medical equipment, etc. The prospects need to meet impairment requirements in order to get these benefits. There aren't any enrollment caps for this program, that means any individual that is eligible is allowed to receive services.
Alternative Assisted Living Funding Options
There are many assisted living facilities that provide private funding alternatives for their residents. For example, if a senior has long-term care insurance it will cover part of the costs related to living at an assisted living facility.
In some circumstances assisted living residents pay out of pocket for their care. The residents pay for their care by selling property or other real estate. A lot of seniors also have substantial savings in financial institutions they use to pay for their assisted living requirements. There's a wide range of ways in which you or your senior's assisted living care expenses may be covered.
How Do I Find Assisted Living Facilities Near Me in Arizona?
There are a lot of ways to find assisted living facilities in your local area. If you're looking for assisted living facilities in Phoenix, Trust Canyon Winds Retirement for all of your assisted living facility needs.
Ask Friends or Co-workers for Referrals
Your friends or co-workers might have used a good assisted living facility in the past. Maybe ask around to see if they know of an affordable assisted living facility that can help.
Use Search Engines Like Google.com
Use Google.com to search for "assisted living facility near me" and look at the maps listings to find the best assisted living facility.
Use Online Directories to Find Assisted Living Facilities
Online directories like Caring.com and Yelp provide lists of the best assisted living facilities near you. Looking for the highest rated assisted living facilities? You're sure to find them on these helpful websites.
Join an Assisted Living Facility Forum Online
Join an online assisted living facility forum such as AgingCare.com. You can find local professionals and ask members about assisted living costs, etc.
Assisted Living Facilities in Arizona
Learn more about our other assisted living facilities below:
Sedona Winds Retirement Community  is an assisted living facility located in Sedona, AZ. Sedona Winds offers a lot of activities for seniors at their facilities. They provide activities that allow their residents to maintain a healthy lifestyle by socializing with their peers and encourage them to staying active. Sedona Winds beautiful Assisted Living Community offers large studio & one-bedroom apartments with a lot of space for our resident's belongings.
Address: 475 Jacks Canyon Rd., Sedona, AZ 86351
Phone: (928) 284-9077
Desert Winds Retirement Community is an assisted living community in Peoria, AZ. Our facility is a big assisted living community with 88 units. Communities of this size typically offer one-bedroom apartments, multiple care levels, chef prepared meals, and a healthy resident developmental program. Desert Winds is a wonderful Assisted Living Community that offers large studio, one-bedroom apartments, and two-bedroom apartments with enough space for our resident's possessions.
Address: 20545 N. Lake Pleasant Rd., Peoria, AZ 85382
Phone: (623) 322-0600
Chaparral Winds Retirement Community is a beautiful assisted living community in Surprise, AZ. Being able to socialize with other residents becomes an essential part of many peoples' lives and Chaparral Winds Assisted Living offers common indoor spaces that supports that need. When a resident needs help moving from a bed to a wheelchair or vice versa, this facility has highly trained staff that can help.
Address: 16623 N. W. Point Pkwy., Surprise, AZ 85374
Phone: (623) 975-0880
Ventana Winds Retirement Community is a distinctive assisted living community located on the border of Sun City and Youngtown, AZ. Each spacious apartment comes with a walk-in closet, a patio or balcony, with lots of storage and a kitchenette with a full-size refrigerator. Our three-story assisted living facility is built between a lovely courtyard and a crystal-clear swimming pool. Life is destined to be lived at Ventana Winds.
Address: 12322 N. 113th Ave., Youngtown, AZ 85363
Phone: (623) 583-2460
Canyon Winds Retirement Community is an attractive assisted living community in Mesa, AZ. Residents revel in upscale living with first-class care in this gorgeous two-story, 60 unit community featuring studio, one and two bedroom floor plans. Our residents are provided chef prepared meals, transportation, laundry services and housekeeping. They have access to the full community and will receive additional support and care when needed.
Address: 7311 E. Oasis St., Mesa, AZ 85207
Phone: (480) 948-0600