Benefits of Assisted Living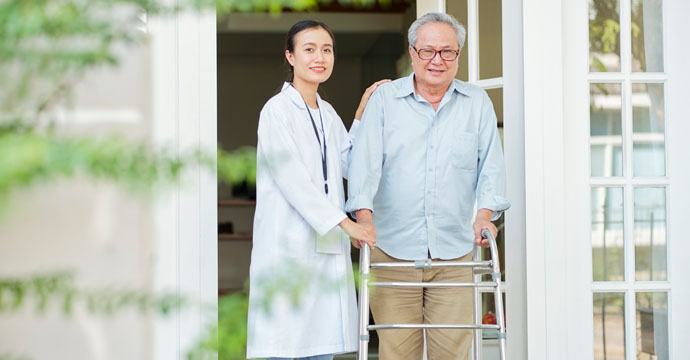 From safety to comfort to socializing, assisted living facilities have many things to offer to better today's seniors' lives.
Learn more about 7 of the benefits of assisted living:
1. Assisted Living Facilities Are Safe
As seniors, our loved one's face safety risks when they live alone, such as falls or other emergencies that may be worsened if no one is around to help. Luckily, in an assisted living facility, they will receive that help sooner than later. In addition to the assisted living staff, these communities typically have a nurse on staff also, so they will be able to receive knowledgeable nursing care the moment they need it.
2. Assisted Living Schedules Community Activities
Assisted living facilities provide a continuous schedule of activities for their residents. From art classes to movie nights and outings to local museums – these communities make it simple and easy to stay active and keep busy. A lot of the classes and activities offered may even allow seniors to learn a new hobby or keep up with an old one, something that becomes more significant and helps then avoids isolation as they get older.
3. Assisted Living Facilities Create Connections
This is an important benefit that some families may overlook in the beginning. A big impact of aging in place is being lonely, which has very vital health outcomes, like an increased risk of high blood pressure and Alzheimer's and In assisted living facilities, seniors have the chance to socialize to create connections and start new friendships every day.
4. Assisted Living Offers The Full-Time Care A Lot Of Seniors Need
One huge benefit assisted living offers the care that seniors require when once simple tasks – such as getting dressed in the morning and eating three healthy meals a day – may become impossible for them to do by themselves. It's hard to downplay how important this benefit is.
5. Chores, Home Maintenance, And Meals Are Done By Facility Staff
Cleaning the house. Taking care of the yard. Preparing dinner. When you live in alone in a home, there's always something that needs to be taken care of. When you live in assisted living, many daily issues become someone else's job, because most all of that work gets moved off of your plate.
6. Seniors Have A Lot Of Assisted Living Options
Because the assisted living industry is growing, today's seniors have more options for their care than ever before. In addition to typical assisted living communities, there are now specialty assisted living options that include college courses, LGBTQ assisted living communities and green senior living. Today's seniors also have the option to seek out communities that match their specific values.
7. Seniors In Assisted Living Have Privacy
A lot of seniors are concerned about the loss of their privacy when they move into assisted living, but your loved one will still have a room of their own. Yes, they share common areas with the other residents, but when they want to retreat from the other residents, they can close their door behind them and have some time for themselves.
Source:
"7 Benefits of Assisted Living." SeniorAdvisor.com Blog, 24 July 2019, https://www.senioradvisor.com/blog/2018/08/benefits-of-assisted-living/.
Canyon Winds Retirement Offers Assisted Living in Mesa, Arizona
Canyon Winds Retirement is an assisted living facility in Mesa, Arizona. To schedule a tour of our assisted living facility, contact SLS Communities or for more information please call us today at 480-405-1129.