Moving from Assisted Living to a Memory Care Facility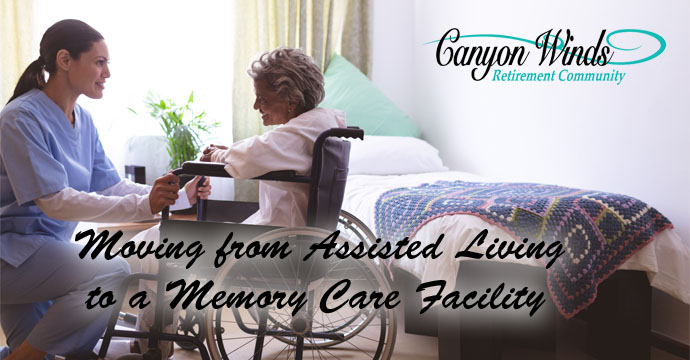 If you are searching for "how to move a parent from assisted living into a memory care facility", this post should help!
While there aren't any correct guidelines for when it is time to move a loved one into an assisted living community, however, you can be looking for signs that it is time to move them to assisted living or memory care facility.
Assisted Living definition: An assisted living facility is a long-term elderly care alternative that provides personal care services such as meals, medication regulation, bathing, clothing and transportation, and laundry services, according to aplaceformom.com.
According to Dictionary.com, "assisted living is housing or living arrangements for the elderly, infirm, or disabled, in which housekeeping, meals, medical care, and other assistance is available to residents as needed".
Assisted Living Communities
A lot of people see assisted living as being a win-win situation. A resident can have as much independence as they want, while also knowing that there are support and care services available if they are needed. Assisted living communities have been planned in order to provide a person with assistance with day to day living activities like bathing, dressing, grooming, etc. Some states allow assisted living communities to provide medication reminders or assistance. These communities are much different from nursing homes because they don't provide any complicated medical services.
Our assisted living environment is quite appealing to both the families and our potential residents. Our community is able to offer a home-like environment with apartments that include either a one bedroom or studio model. Our kitchenettes will typically have a and small refrigerator and microwave.
Who Will Require Assisted Living?
Residents will usually be seniors who have begun to decline in health and are requiring assistance with one or more everyday living activities. Seniors who are desiring to live within a social environment with little responsibility as well as a place where necessary care can be easily accessed if needed. Statistics say, usually, residents are typically females within their mid-80's.
Differences Between Assisted Living vs Nursing Home
People often use the terms "nursing home" and "assisted living" interchangeable. However, these two terms are very different.
The biggest difference between assisted living vs nursing home is the level of care that is provided. Nursing home residents need extensive personal care vs assisted living facility residents can still somewhat take care of themselves. It costs more to get assistance at a nursing home than an assisted living facility, due to the higher level of care provided by them. For example the average cost of assisted living is about $4,500 per month vs the average cost of a nursing home is around $6,800.
Assisted Living
Assisted living residents can still take care of themselves
Need assistance with cooking, cleaning tasks, and personal care
The monthly cost is based on the level of assistance you need
Reside in a private living space like an apartment or condo
Couples can live together
Some facilities allow you to have your own vehicle
High level of socialization, organized trips, etc
Medication management and administration
Costs less than a nursing home
Usually paid for out of pocket
Nursing Home
Nursing home residents need a higher level of care
Need assistance with getting dressed, restroom breaks, getting in/out of bed
Need frequent or daily medical care
Need to be checked on frequently
Less independence
Limited recreational activities
Private or shared rooms
No outside areas
Are not mobile without assistance
Cost more than assisted living
Predominantly paid for by Medicaid
What Happens When the Care Level Needs to be Increased?
Most assisted living communities will let their residents age within the community. They can do this because a lot of them have on-site care and if not, they can find local care providers to work with so that the residents can stay within the community as their care level heightens. This type of care that will be added to the rent and will vary based on the care that is required.
Types of Amenities and Activities in an Assisted Living Community
Usually, all assisted living communities will offer meals 3 times a day and help with laundry and some light housework. Based on the community's location, a resident will have a way to get around to places such as the post office, beauty salons, swimming pools, fitness centers and more. There are also a lot of communities that will plan activities and events that a resident can be a part of which can range from concerts to arts and crafts. These communities can range from large campuses to small homes so the amenities will vary based on the type of community. Another thing that needs to be considered is that many assisted living communities to realize that pets are essential to some of their residents and will allow residents to have pets, as long as they can take care of them.
Are These Communities Regulated?
Each state has policies that will regulate and define what services and care are required for assisted living communities to meet the principles of the state. Usually, the state will set the regulations to make assisted living separate from other care facilities. Some states may even look after safety, food, providers and the care provided.
How to Pay for Assisted Living
Assisted living is usually paid using private funds, but there are some reservations. Check the insurance policy to see if the costs will be covered. If the resident is a veteran or is a veteran's spouse, they may qualify for veteran's benefits which will help pay for the community.
How Much Does Assisted Living Cost?
On average, assisted living costs about $3,600 per month depending on the types of services and size of the apartment you choose according to a post by 5 Star Senior Living titled, "How Much Does Assisted Living Cost?".
Canyon Winds Offers Assisted Living in Mesa, Arizona
Canyon Winds Retirement is an assisted living facility in Mesa, Arizona. To schedule a tour of our assisted living facility, contact SLS Communities or for more information please call us today at 480-405-1129.