Retirement, Quotes, Sayings and Wishes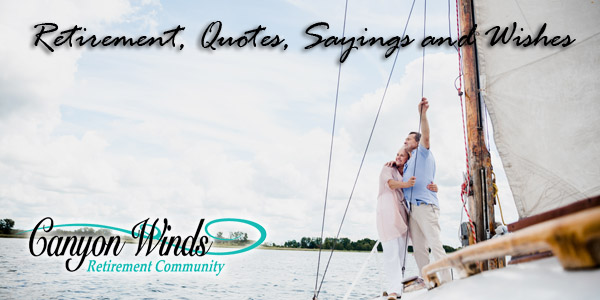 Are you looking for retirement quotes, well wishes or sayings or what you should write in a retirement card? We have compiled a list of retirement quotes from all over the internet. Here are some of the top retirement, quotes, sayings and wishes for what to write in a retirement card.
Now that you are retired you can begin your new career, fishing!
Enjoy your freedom and unlimited weekends! Congratulations on your retirement!
You have no excuses for not having time for posting selfies with the grandkids. Congratulations on retiring.
Congrats on your retirement, may it be even better than you ever imagined it could be.
Best wishes and good luck for a fulfilling retirement.
All of us at the office are jealous and at the same time, very happy for you. Happy Retirement!
We will never forget all the things you have taught us whether at work or in our lives. You are one of the reasons we have fun working.
Congratulations, now the real fun begins. Best wishes on the new chapter in your life.
Sending you loving wishes for a truly amazing retirement.
Best wishes on your new adventure. We'll miss you.
You are truly one of a kind and will not easily replaced.
Here's to you watching your fishing line and not the bottom line.
Congratulations on your total freedom! The best is yet to come
We wish you healthy and happy days in your retirement.
Don't forget to spend a little of your extra time with us. We're so happy for you!
I sincerely hope that retirement is wonderful, and I wish you lots of joyous time with your family.
Congratulations on your retirement. We wish you tons of happiness in the years ahead.
The key to retirement is to find joy in the little things.
Retirement, no job, no stress, no pay
Retirement, world's longest lunch break.
Retirement is the working person's wish come true. Here's to finally getting your wishes granted!
Everyday is a weekend when you are retired.
Best wishes in your retirement. Here's to watching your grandkids instead of the bottom line.
Retirement isn't all it is cracked up to be. It isn't for us, anyway. Enjoy your well-deserved freedom and know you will be greatly missed.
Best wishes on your retirement. Enjoy the opportunity to do wonderful things just for you.
Enjoy the freedom your achievement has earned. Happy retirement.
I am happy to see you retire at just the perfect time. Actually, any time is the perfect time to retire.
I'm glad you get to retire while you still have many good and capable years of life left in you! Congratulations!
Retirement is the last stage of your life. I hope you make it as long in retirement as you did in your career.
Enjoy working at living, instead of living at work.Happy retirement.
Time to stop lying about your age and start lying around the house!
Congratulations on becoming the master of doing nothing.
Happy retirement… think of it as a six month holiday, twice a year
Of all the people I have ever worked with. I can honestly say that you were one of them.
All the best with your retirement. I hope you enjoy the greener pastures.
Enjoy the freedom your achievement has earned. Happy retirement.
May your retirement be a special time spent with friends and family doing all the things that you enjoy to do.
Congratulations on your retirement! If you ever get bored, give us a call us and hang out with us.
A life without the daily traffic jams and mounts of paperwork. Welcome to that rosy life, my friend. Happy retirement!
Cheers to you and your recent retirement! Let's make some plans to make the best of your retirement!
This is another beginning of your life. Hearty Congratulations on your retirement.
May you enjoy a successful life after retirement to the fullest.
Wishing you the most exciting and stress-free retirement ever.
From now on you do not have to put off the things that you have been craving to do. Welcome to the time of your freedom. Happy Retirement!
Your retirement actually means that you got promoted to one of the best roles in your life. Congratulations.
Congratulations on your retirement. We wish you tons of happiness in the years ahead.
When you retire you can do what makes you happy and seek out people who make you happier!
We wish you a happy retirement. Remember it's the beginning of anything and everything you want it to be.
Congratulations and best wishes for your retirement. As far as I know there is only one problem you have to address and that's when to schedule your days off!
Your dedication and hard work ethic has earned you the ultimate reward… Retirement!
Read even more retirement quotes.
Retirement Communities In Mesa, Arizona
Canyon Winds is a luxury retirement community in Mesa, Arizona offering assisted living, memory care and independent living. Learn more about finding a Mesa Retirement Community.