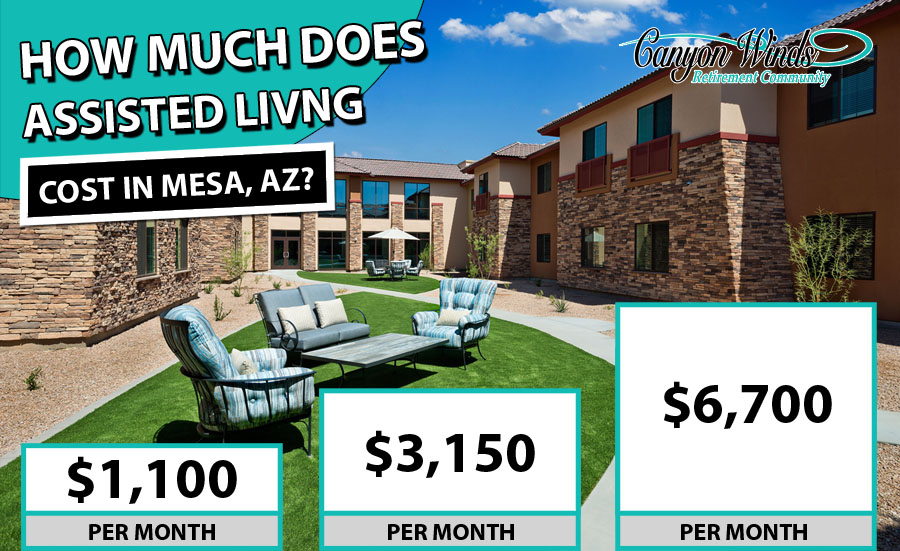 On average, assisted living in Mesa costs about $3,150 with average prices ranging from $1,100 to $6,700 in Mesa, Arizona for 2022. This cost is slightly below the natural average median of $3,285. "The average daily cost for assisted living in Mesa, Arizona is approximately $105, with costs running between $37 and $223 per day."
Mesa, AZ is located in the southwestern US, and is popular with retirees particularly for the active lifestyle amenities available and the gorgeous weather. There is a variety of assisted living communities with many different options to choose from. From small, shared rooms costing $1,000 a month to luxury one bedroom private suites costing up to $6,913 per month. Having so many choices available it is easy to find an assisted living community in Mesa that will suit your needs.
$3,000 per month is the average price for an exclusive one-bedroom in an assisted living community in Mesa. That equals the average rate for the entire state of Arizona, but it does work our slightly less expensive than the US average of $3,700. Mesa is a favorite city, but you don't have to worry that it is going to be expensive to reside there. In Mesa, AZ, a well-kept assisted living community will offer the amenities, services, and qualifications you're looking for.
Average Assisted Living Cost Mesa
According to Caring.com, "With an average cost of $2,745 in Mesa, it's often difficult to find assisted living communities that provide high-quality care at an affordable price."
RetirementLiving says, "The average cost of a private one-bedroom in an assisted living community in Mesa, AZ is $3,500 a month, which is the same as the average rate across the state of Arizona as a whole and is slightly below the national average of $3,700."
Assisted Living vs Nursing Home Cost in Mesa, AZ
Assisted living facilities cost around $2,500 to $6,700 per month vs nursing homes which cost around $6,800 to $7,700 per month. Medicare and Medicaid typically do no cover the cost of an assisted living facility. However, Medicare and Medicaid will cover the cost of nursing if the patient meets the requirements.
Cost of Living in Mesa AZ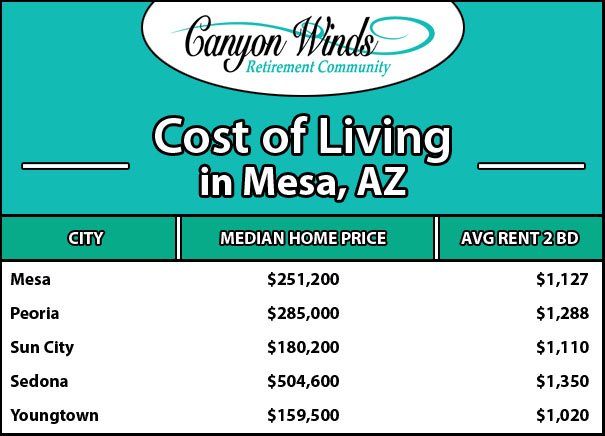 The cost of living in Mesa is 104.2 based on the US average of 100 with the median housing price around $251,200 according to BestPlaces. An amount above 100 means Mesa is more expensive than the US average. A studio costs about $781 per month. A 1 bedroom costs about $911 per month. A 2 bedroom costs about $1,127 per month. A 3 bedroom costs about $1,629 per month. A 4 bedroom costs about $1,895 per month.
| | | |
| --- | --- | --- |
| City | Median Home Price | AVG Monthly Rent 2 BD |
| Mesa | $251,200 | $1,127 |
| Peoria | $285,000 | $1,288 |
| Sun City | $180,200 | $1,110 |
| Sedona | $504,600 | $1,350 |
| Youngtown | $159,500 | $1,020 |
Mesa Assisted Living Communities
Canyon Winds Retirement
2851 N Boulder Canyon, Mesa, AZ 85207
Our warm and inviting upscale assisted living community in Mesa is different than any other retirement community! Canyon Winds Retirement Community offers Assisted Living, Independent Living, and Memory Care services. Located at the entrance of Las Sendas in Mesa, the community is bordered by beautiful and stunning views! Our resort style property is sure to make a lasting impression!
Learn More About Canyon Winds Retirement
How Much Does Luxury/Upscale Assisted Living Cost In Mesa AZ?
The average cost of luxury assisted living in Mesa is around $4,762 according to Bank Rate's post, Luxury Senior Living Communities.
Assisted Living Community Mesa
The exquisitely designed Canyon Winds Assisted Living community in Mesa is Now Open. Residents enjoy an upscale living style with first-class care in our beautiful, two-story, our 60-unit retirement community features gorgeous Studio, One and Two Bedroom floorplans. Visit us and experience specialized care that centers on the unique needs of each resident, all while enjoying delicious meals in our restaurant-style dining room and joining in events from an enriched activities program.
Do you have additional questions about assisted living costs in Mesa, Arizona? Give us a call today to discuss your details of what you are looking for in a retirement community. Canyon Winds Retirement Community offers assisted living services in Mesa, Arizona.