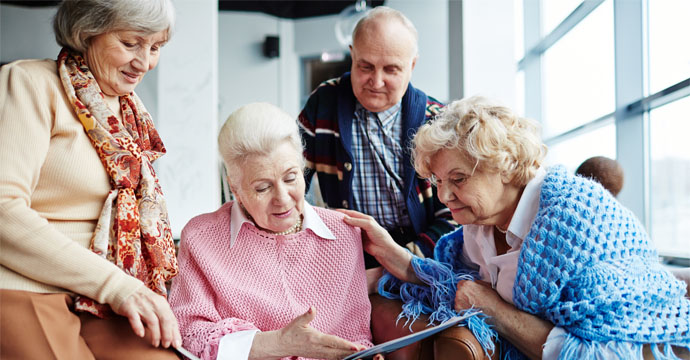 Are you searching "What Is Memory Care?", to better understand services offered by quality retirement and assisted living communities? If so, this post will help you understand the memory challenges our seniors face and how memory care improves their lives.
There are a lot of us that will associate old age with being frail physically like wrinkling skin, arthritis, and failing eyesight. But as you age, your mind will even begin to show its age with a form of forgetfulness and it doesn't matter if you forget your anniversary date or where you put your keys. What happens to you when your mind begins to age in ways that disrupt your daily life?
1. Memory Care Is More Costly, But More Extensive
Regular assisted living give seniors personal care support, like meals, help with bathing and getting dressed, and management of medication. It costs, on average, about $3,300 a month for a one-bedroom apartment. The average cost of memory care is about $5,000 for a single resident, but some facilities go a little further to effectively provide care for those that have Alzheimer's or other dementias, with 24-hour supervised care for patients at every stage of the disease.
2. Memory Care Communities are Built For The Specific Purpose Of Serving Those With Dementia
The environment is safe and secure, specially designed by dementia specialists to reduce the risk of danger from roaming. Hallways and other design features are commonly color-coded to help with navigation and reduce distress in its residents. A safe environment also helps residents to stay independent for as long as possible.
3. Memory Care Communities Offer Programs To Help with Behavioral Issues
In addition to recreation programs, therapeutic programs that address memory decline, roaming and other typical dementia behaviors help enhance the quality of life for residents. Memory care is gaining ground as senior living providers are beginning to provide more advanced memory care programming that addresses all stages of the disease and customizes care for each individual.
4. Memory Care Enhances Safety And Quality Of Life For People with Dementia
Communities with programs aimed memory care have reported a higher quality of life in a number of various areas, including medication reduction and medications side effects; a lower number of falls and, injuries, and hospital visits; enriched wellness and nutrition; and greater independence and socialization. As many as 3/4 of residents even experienced maintenance or improvement of mental operation.
5. Memory Care Serves Families, As Well As Those With Alzheimer's Disease
Simply knowing that your loved one has trained 24-hour care provides families with peace of mind and helps relieve the caregiving responsibility. These communities also typically offer specific outreach to families of seniors suffering from dementia. These communities are devoted to providing families and caregivers with details and practical advice to help them through the various issues that are common when caring for someone that has Alzheimer's.
6. Memory Care Does Not Isolate People With Dementia
Even though memory care is usually located in a separate unit of larger assisted living facilities, or a devoted wing of a community offering continuous care, special social and therapeutic programming guarantees that residents are kept happy and engaged.
7. Research and Due Diligence Is Paramount When Choosing Memory Care
A memory care community will offer outreach and education for families, caregivers need to do their researching whether a specific facility is the right for their loved one. Before making a final decision, consider your loved one's individual requirements, as well as features and treatments available at the community, their policies, their security, and safety, what on-site staffing is available, and whether you and your loved one have an overall positive impression of the place. See our memory care checklist for more questions to ask.
Canyon Winds Retirement Offers Memory Care In Mesa, Arizona
Canyon Winds Retirement offers memory care in Mesa, Arizona. We also offer independent living and assisted living. To schedule a tour of our memory care facility, contact SLS Communities or for more information please call us today at 480-405-1129.