Outdoor Activities For Seniors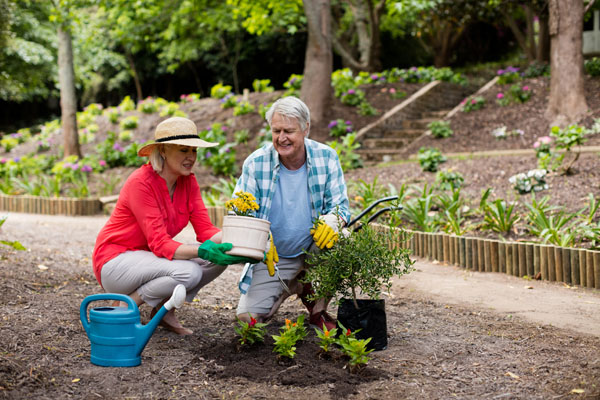 The most common outdoor activities for seniors include:
1. Fishing
Fishing is one of the most enjoyable activities for seniors. Not only does it let them to spend time outdoors, it also gives them a chance to potentially walk away with something for lunch or dinner. Fishing also enables seniors to spend time with friends and loved ones. With great fishing spots around Arizona, it is easy to find the perfect fishing place. Having good company during these fishing trips is vital.
2. Strolling
Walking around relaxed can be very beneficial. In addition to it being a type of exercise, walking around the retirement community or in the park may allow senior citizens to make new friends, take note of changes in their neighborhood, and enjoy the sun and get some fresh air. Having good company while strolling is suggested as it stops the short day to day walks from becoming boring.
3. Gardening
Gardening is a favorite hobby for people of all ages. Planting flowers and vegetables in the yard and caring for them can be a lot of fun. Additionally, getting all the fresh cut flowers and vegetables from your own garden can be rewarding. The size of the garden should be reasonably large. Basically, gardening for seniors needs to be more of a hobby than a chore. If the garden is too big, some assistance may be needed.
4. Golfing
Golf may be a professional sport, but it is also a favorite pastime for a lot of people. The mental awareness, skill, and patience required to play this game are tremendous, and seniors will like the challenge.
5. Metal Detecting
A popular way for seniors to spend some time outdoors is from metal detecting. Hunting for metallic objects can be both fun and fulfilling at the same time. The best place to do metal detecting is typically at the beach, but it can also be done at parks or a little closer to home, the back yard. Metal detectors can also be used to hunt for scrap metal or coins, and any other kind of metallic object.
6. Nature Photography
It's nice to hear and see birds singing and chirping, and it can be fun to capture them in pictures. Nature photography is good not just for nature lovers, but also for today's seniors. It's not only birds and wildlife that can be captured on film; roaring oceans, the stars, and moon, sunrises and sunsets are beautiful events that lend themselves to photography. All that is required is a decent camera.
7. Picnics
Having meals outdoors can be a highly enjoyable experience. Of course, this outdoor activity can be associated with any of the other activities on this list. The key to success with this activity lies in choosing a perfect spot and trying different locations. Going to the same bench at the park can become monotonous after a while, so hiking up a hill to have a picnic with a view of the city below (for example) can be worth the effort!
8. Yard Games
There are a lot of games that can be played outdoors including:
Frisbee golf
Darts
Volleyball
Badminton
Horseshoes
9. Garden Parties
Hosting outdoor parties can give seniors a great excuse to go outside. These can be daytime events that include the grandchildren and kids, or even evening parties.
10. Boat Rides
The fresh air is greatly appreciated while on the water. Boat rides on a lake or the ocean can provide a senior with an opportunity to have some fun outdoors, or just a new relaxing experience.
Independent Living, Assisted Living & Memory Care in Mesa, Arizona
Independent Living: Searching For Independent Living In Mesa or Independent Living In Phoenix? Canyon Winds can help! We offer the highest standard of independent living services in the Mesa, Arizonan Area.
Assisted Living: Searching For Assisted Living In Mesa? Canyon Winds can help! We offer the highest standard of assisted living services in the Mesa, Arizona Area.
Memory Care: Searching For Memory Care In Mesa, Arizona? Canyon Winds can help! We offer the highest standard of memory care services in the Mesa, Arizona Area.
If you would like to schedule a tour please give us a call at 480-660-0259 or 480-405-1129.