What Is Independent Living?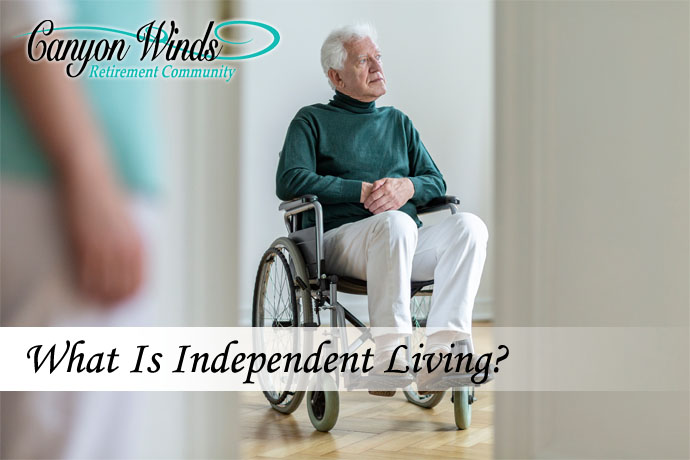 If you are searching for "what is independent living", this post will help answer some of your questions. When you or your loved one is introduced to independent living, it is wise to know an assessment of what you are walking into.
Independent Living definition: Independent living communities, commonly known as retirement communities, senior housing or retirement homes. For today's seniors with few, if any disabilities and need only limited help, retirement communities offer a wide range of mental, physical and social programs to enhance you or your loved ones golden years' enjoyment. according to aplaceformom.com.
Independent Living Communities
We get it, we all will age, and when it begins to happen, it is time to start perhaps thinking about adjusting our living arrangements. Occasionally responsibilities can become too much. Then there is loneliness, which signals that they maybe could use some friendship with seniors their own age. An independent living facility could be the answer but, depending on your loved one's situation, a retirement home may be better suited for them.
What Does Independent Living Comprise Of?
Independent living are residential apartments for seniors who are 55 years old or older. Senior housing will have a warm atmosphere, more compact living, and they are designed to help seniors get around easier and landscaping and/or maintenance is taken care of for them.
Typically, independent living communities offer its residents various activities and programs, other types of services as well as niceties. Independent living housing usually has a recreational center and/or clubhouse that allows seniors to socialize with other seniors. Independent living may also have community movie nights, arts and crafts, holiday turnouts, and other sorts of activities.
The retirement community may also offer facilities like swimming pools, exercise centers, golf courses, and a variety of groups and clubs. They also offer other services, such as on-site spas, daily meals, daily housekeeping, a chapel, laundry services, and beauty salons and barber shops.
Basically, independent living facilities are focused on those individuals who are 55 and older. They are created and designed to give an ambiance of independent living, but with help available when they need it. Hiring in-home aids is also a viable alternative for those who think that they may need it.
How Is Independent Living Different Than Other Senior Living Arrangements?
The primary difference between other senior housing and independent living is the level of care a resident may need. If the resident needs 24/7 assistance with daily routines such as cleaning themselves, getting dressed, using the restroom, eating meals, or if they have individual medical needs, the community caregivers are there for them.
Is Independent Living A Good Fit For My Loved One?
When a senior needs to make a change in their living arrangements, it can feel as if the sky is falling, like they are forfeiting all of their independence. Regardless, independent living is simply that, it's about making it much more easy for them to stay independent. Knowing your loved one's limitations are keeping them from leading a regular life, and facing that they could have a quality life with a little help will allow them to be independent longer.
To Help You Determine If You Loved One Would Benefit From Independent Living, Answer These 4 Questions:
Is your loved one taking care of their home as good as they used to, or is it getting harder for them to do?
Keeping their home clean is part of their dignity, but when they get older, it may become a little overpowering, becoming more of a hassle. As an example, they may have a home that has a yard that needs constant maintenance or extra rooms that aren't used but still need to be cleaned. They may have issues getting to their home because of stairs or steep inclines, which stops them from getting out as much as they used to, which leaves them feeling isolated.
Their neighborhood maybe isn't as safe as it used to be, which stops them from walking like they used to, or prevents them from getting out at all. They can eliminate some of these issues by hiring outside help or by doing some remodeling. If they are looking for independence without all the stress of maintenance, then they may need to move into an independent living facility.
Have they been connecting with their friends and family as much as they would like too?
Seniors who are isolated have an increased risk of depression and/or mental health issues. This can happen for various reasons, like becoming somewhat immobile, which can make getting around harder and/or not being able to drive themselves around.
Independent living facilities will provide them with a network of peers that their social life lacked, as well as provide socialized activities.
Is getting around getting harder for your loved one?
Is your loved ones home located where driving is difficult for them to get out and socialize or visit family and friends? If driving is inconvenient and they have to use public transportation, or it is hard for friends and family to get to them. They may even have difficulty getting to important appointments.
A lot of independent living facilities will offer alternatives for transportation for socializing or outside activities.
Is their and/or their spouse's health declining?
Evaluating their health condition and understanding what their health might be like in the future is an important measure. If their current health condition can let them know what to expect down the road, you will also need to take that into consideration.
These conditions allow for planning for the future, which is a smart thing to do. It isn't just their health to consider either, their spouse will need the same support, and you should plan their living arrangements together for the future.
Canyon Winds Offers Independent Living in Mesa, Arizona
Canyon Winds Retirement is an independent living facility in Mesa, Arizona. To schedule a tour of our independent facility, contact SLS Communities or for more information please call us today at 480-405-1129.